1862
A SYMBOLIC
STRUCTURE
Cunda Despot House tale begins in 1862, when clergyman Grigorios Gudohiras came to the then Greek-owned Cunda Island with a dream: to create a majestic architectural homage to ancient Greek temples. Built using donations given to celebrate Greece's independence, Despot House ("Clergyman's Home") remained a source of joy to Gudohiras for 14 years.
1877
TAKEOVER
BY THE OTTOMANS
After Gudohira's death in 1877, the Ottoman Empire purchased Despot House for use as a government building.
1921
DURING AND AFTER
THE REPUBLIC
Initially used as an orphanage, the structure continued to serve both as a primary school and orphanage by the Turks who came over through the population exchange following victory in the War of Independence.
1973
YESILCAM
CINEMA
"Hayat Bayram Olsa and Kambur"
Majestic even in its ruined state, Despot House was featured in several Yesilcam ('Green Pines' – the Turkish Hollywood) films, starting with "Kambur and Hayat Bayram Olsa" in 1973.
1976
YESILCAM
CINEMA
"Ah dede Vah dede"
1976 saw Cunda Despot House second cinematic outing in "Ah Dede Vah Dede," another Yesilcam film.
1980
THE SLEEPING
BEAUTY YEARS
After the orphanage was relocated to a new building, Despot House was abandoned and crumbled into neglect. Architectural interventions undertaken when it was an orphanage and primary school added to its weakened state, leaving it even more vulnerable to the earthquakes, fires and looting that followed.
1986
YESILCAM
CINEMA
"Av Zamani"
Even as it slid into further decline, Despot House was still star of the cinema in another Yesilcam outing, Av Zamani.
2015
RESTORATION
Rented from the Minister of Culture in 2015 by Turkish mining firm, Polat Holding Company, Despot House was painstakingly restored with exceptional attention to historical continuity: from the neoclassical honey-toned façade to the ornate entrance-way ironwork and elegant star-patterned floor tiles.
2019
HOTEL OPENING
By 2019, Cunda Despot House had been restored to its former glory, ready to begin a new chapter at the heart of the Cunda Island community.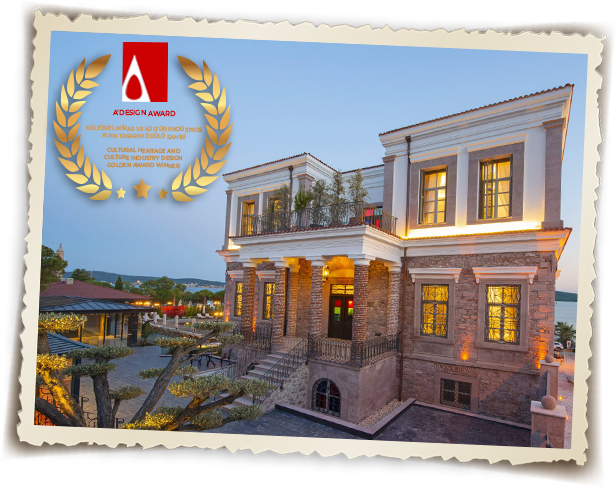 2020
A'DESIGN AWARD
Cunda Despot House was awarded the 'Cultural Heritage and Culture Industry Design' Gold Prize in the industry-leading A' Design Awards 2020.